Tokyo, Japan!
As a designer and team lead at Rapt, I get to work with some of the most innovative brands in the world. We were lucky enough to work on a project in Tokyo, and in 2018, I spent a total of seven weeks out there. My talented colleagues and I had a blast exploring the city. We spent most of our time in Tokyo but managed to make a couple day trips, too. On each visit, I experienced new neighborhoods and destinations, and recorded my adventures on Google Maps.
I coudln't get enough of Tokyo. The the city is sprawling but surprisingly approachable because the transportation system is so extensive and well-organized. The options for food, drinks and entertainment are truly endless. Beyond the obvious must-sees (check out NYT 36 hrs, or follow this guide for a more historic take), it takes a discerning traveler to figure out how to maximize their time on any vacation. My criteria: 1) energetic atmosphere, 2) thoughtful design, 3) local flair. With that:
Here are my recommendations on how to do Tokyo like a designer.
Spend at 3-4 days in one of the most incredible cities in all of Asia. Japan's culture revolves around seasons and recommendations might vary depending on when you're going (all recommendations here are agnostic but you'll want to do some supplementary research of your own before heading over). Definitely get international service on your phone and download Google Maps and Google Translate before you go - this is critical for a successful Japanese adventure. And, please share your tips and suggestions! I love hearing about what you found in your research and adventures. Enjoy!
Life hacks & critical things to know before you go.
Tokyo travel hacks:
Fly into Haneda (not Narita!) and save yourself an hour of travel from the airport into the city.

The exchange rate is roughly $1 = 10 yen which makes converting easy.

If you're planning on shopping over $50 at any given time, bring your passport. You don't pay tax if your total amount exceeds $50.

It's easy to grab cash from 7/11s. They're literally everywhere.

Vending machines with water are also literally everywhere. Where there is a vending machine, there is a trash can. To-go is called "take away" and it's not common. Sit, eat, drink, enjoy and then move on. If you do need a trash can, look for a vending machine. They're always paired.

Carry a handkerchief with you- it's not customary to have napkins in public restrooms etc. and on the same token, almost every establishment (like EVERY establishment) has a bathroom.

People don't really speak English here. Download the Google Map of Tokyo to your phone, save it in offline mode just in case, and get international roaming. Download the google translate app. To that end, learn a few key phrases. My list below will get you started…

Many places offer English menus, just ask.

Most places take card but some are cash only; ask before you buy.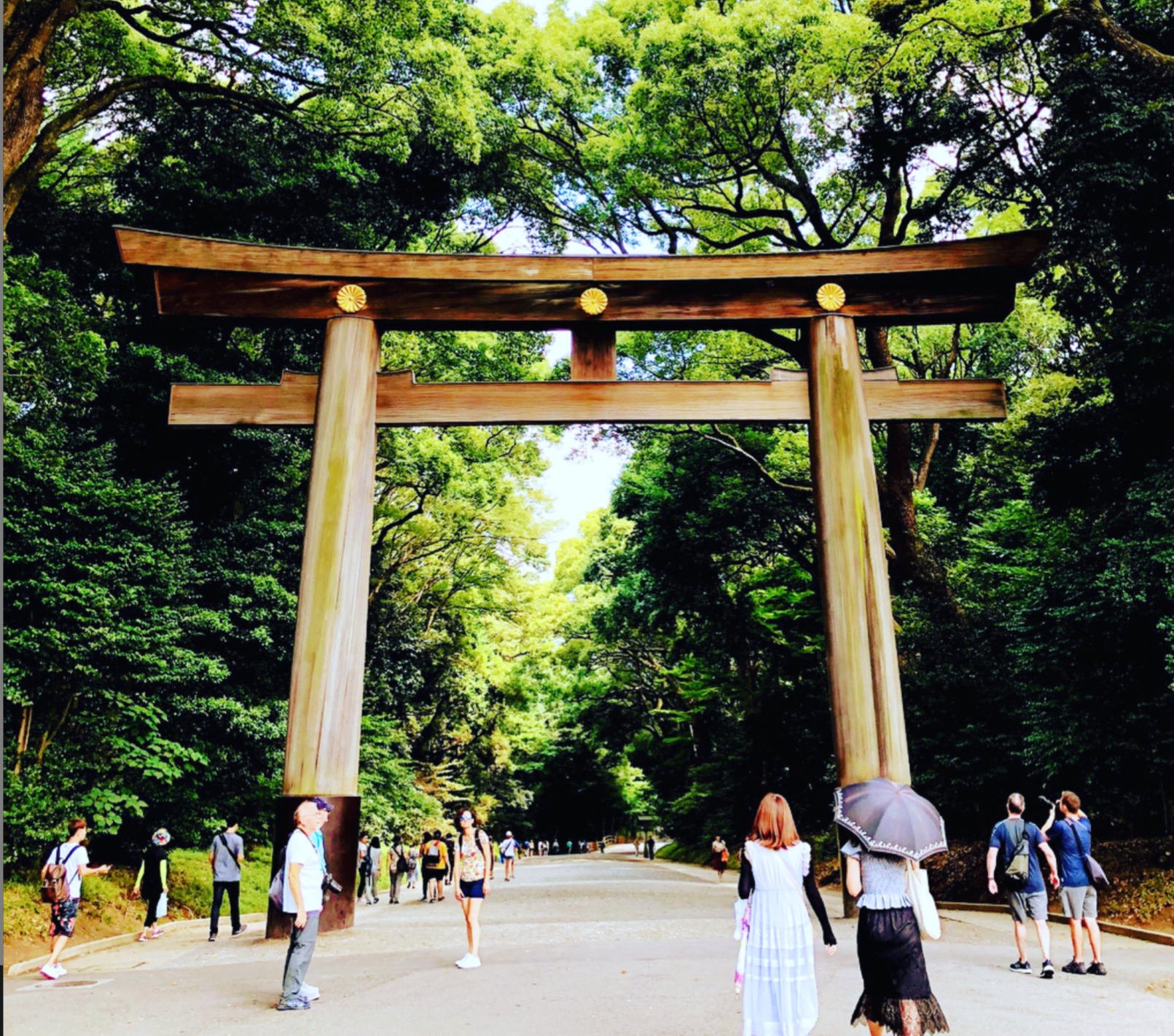 Japan is known for its hospitality, so we recommend soaking it all in by staying in a hotel. Plus, most here are not fluent in English, so it's easier to have access to a concierge that can help book reservations, give you directions, and generally help you get oriented.
Japan is huge, and you have lots of options in terms of what neighborhood to stay in. This site has a great breakdown of neighborhoods. It's also really easy to get around on public transporatation here - prioritize staying in an area near a train station.
If you're a fan of architecture at the human scale and a little cultural immersion, consider staying in Meguro, Naka Meguro, Ebisu (try the Ebisuholic, around $300 /night ), Daikanyama, or Harajuku. If you want human-scale but also want to feel a little fancier, stay in the sophisticated Aoyama "prefecture" ("neighborhood").
If you want a Times Square vibe - stay in Shinjuku or Shibuya. If Shibuya, stay in the Stream building; it has a new Excel hotel and new restaurants where you can easily find lots of tasty eats and drinks, and of course watch the nearby Shibuya crossing. If Shinjuku - stay near the Shinjuku train station. There's lots to do around there, but prepare to be overwhelmed by bright lights and drunk locals. Either way, it will be very easy for you to get around since you'll be near major train stations.
Roppongi is known for bars and foreigners. Fun to visit and also has a major train station. You'll find the Grand Hyatt and the Ritz here - both great options (ranges $350 - $750 / night). Also in Roppongi - Mori tower - which is famous for its shopping, the museum, and rooftop deck where you get a stellar view of the city, and an especailly great view of Tokyo tower (their version of the Eiffel tower).
It's also nice to stay in Ginza (IE Melrose Ave) and although it is beautiful and central, it's a little dry - mostly just known for its shopping. Here's an affordable crash-pad I enjoyed in Ginza.
Regardless of where you stay, prioritize a hotel that's near a major train station. Cabs and ubers are really expensive in Tokyo. Google Maps does a great job of explaining step by step public transportation directions and makes it super easy.
Tokyo has SO much to offer by way of food. Meats and carbs are huge here. It's harder to find vegetables - but not impossible. Obviously, there's amazing Japanese food you must absolutely try while you're here. However, Tokyo also does international cuisine VERY well. Here are my favorites:
"Brunch" in Tokyo means something very different from what we're used to in the west — think fish and rice (no thanks!). As someone who loves eggs and mimosas, here's a list of Tokyo's top brunch spots:
That said, of course you can't skip the Japanese cuisine. Be sure to ask for the English menu so you know what you're ordering. MUST eats:
Coffee culture is huge in Japan - and they'd argue they do it best. Don't miss these java joints:
So much to see and do!
Mori Museum - situated at the upper level above the Grand Hyatt and just below the observatory deck. "High"ly (pun intended) recommend checking it out for an amazing view of Tokyo Tower (the Eiffel Tower of Tokyo). The current show is controversial but striking: art of destruction. A ticket to the observatory deck (roughly 460' up in the sky) includes entry to the museum. Recommend visiting sky deck then the museum. You can wander the Mori mall later for food and drinks. Bring your student ID for a discount of 500 Yen which you'll promptly spend on access to the outdoor deck.
Sato Sakura Museum
Missed the cherry blossom festival because you came one of the 350 days of the year they're not blooming? Check out the Sato Sakura museum to see some local artists show off their best rendition of Japan's most famous sights and sites of the season. When you're done checking out the art take a walk around - you'll find a nook you want to tuck into. 1 Chome-7-13 Kamimeguro, Meguro-ku, Tokyo
Commune 2nd
Take a break from walking and shopping in this foodie hipster haven. COMMUNE sports a fun global vibe and is paradise to ex-pats and locals alike. Chill AF and nestled behind Tokyo's famed Omotesando, this unassuming outdoor food truck stop is a great place to wind-down over a quick bite and a high-ball. 3 Chome-13 Minamiaoyama, Minato-ku
Aoyama Flower Market Minami Aoyama
If you love flowers, surprises, secrets, and organic food, definitely DO NOT MISS the Aoyama flower market!!! A flower market that is cover for something else. Enough said. Don't go at lunch time or dinner time. Aim for off hours. I've already said too much. Japan, 〒107-0062 Tōkyō-to, Minato-ku, Minamiaoyama, 5 Chome−1
Also on Omotesando, is the Nezu museum. It's a beautiful building and the exhibition is cool, but it's really all about the garden. It's INCREDIBLE. DO NOT MISS THIS. It's probably my favorite thing in Tokyo. It's a beautiful dream and you'd have no idea you were in a city. 6 Chome-5-1 Minamiaoyama, Minato-ku, Tokyo
For flights of seasonal specialty cocktails do not miss Gen Yamamoto's little bar (Roppongi area). Two flight options of 4 or 6 drinks in an 8 seater bar. You must have reservations - call ahead - but he doesn't open up till about 4pm. +81 3-6434-0652
Meiji Shrine, Yoyogi park
Free walking tour with Tokyo Walking tours meets at 10am in front of the shrine (i went on a Sunday). My guide was Taka San, a retired engineer who gave us a wonderful and insightful history lesson of the shrine and general area. Highly recommend a walk through the park especially if you can grab a local guide.

There's more:
Book store and so much more, open late: T-site / "Tsutaya"
Walk:
Neighborhoods of Daikanyama and Ebisu are my favorite right now! Lots of great little shops, coffee, drinks, and other general cool stuff that you'll find as you're just walking around.
Getting around:
The transportation system here is incredible and Google maps has it totally figured out so be sure to use it. It'll tell you what color line you should be on, where to transfer, and how much it'll cost. Except, it's wrong about the cost. Fares have increased since google maps last checked so be sure to check the cost before buying your ticket. Use your ticket to enter the pass way, and use it to get out. If you've paid the correct amount, it won't spit the ticket back out to you once you're done. Take note of where you're standing and what platform you should be at. There are demarcations showing where people get off, and where you should get on. You may even need to be aware of how many cars the train has. You can get a 3 day pass which makes traveling very affordable. Also, the trains are ridiculously punctual with almost 100% accuracy. They'll apologize for being late as much as they'll apologize for being early. Taxis are expensive. 30 mins in a cab is almost $50. Use sparingly.
Day Trips from Tokyo:
Seasons are really felt here and you can look up what's recommended depending on when you'll be there.
Nikko - gorgeous waterfalls shrines and temples. Beautiful year round but especially stunning in autumn. Highly recommend but it's 2-3 hrs from Tokyo. JR line makes it easy -ish. Really recommend this a lot!! Gorgeous water falls, landscape, and bridge.
Kamakura - big Buddha statue and another beautiful temple. Year round. Some temples in this area are better than others certain times of year. Abt 1.5 hrs from Tok so a nice chill day trip.
Hakone - sculpture garden with a cable car that lends a great view. Year round, but visibility varies and cable car closes if it's bad so check weather before going.
Here are some key phrases and words it's helpful to know:
Konnichiwa - hello / good day. Used at any hrs of the day.

Simosen - technically the word is "samimosen" but colloquially it's pronounced "simosen". It' means excuse me / sorry / and can also mean hello or thank you. Mostly means sorry or excuse me.

Take-away = to go , though it is not common to take food to go, or eat while on the go. Plus trash cans are VERY hard to find.. so just sit, relax, and enjoy before moving on.

Aregato gozaimas(u) - thank you so much. (u) isn't really pronounced. Make eye contact and bow a little for full effect.

DOMO Aregato gozaimasu - thank you SOOO much.

Aregato gozaimashta - OMG THX SOOO MUCHH

DOMO Aregato gozaimashta — OMMMGGGGG THANK UUUUUUUUUU

Mizu = ("me-zoo") water

Hai = ("Hi!") yes

Hotto = ("Hot-though") hot

Iced = iced ;)

Cardo = ("Card-oh") credit card

Sayonara = bye but no one really says this. They mostly end with some version of thank you. Usually aregato gozaimaaas and the "...aaaaas" may trail quite a bit depending on how thankful they really are. Yes, it's a test.
This isn't everything but covers some of my most favorite things so far.
Hope you have an incredible vacation!!!
A friend put together this 10 day itinerary, and I think it covers all your bases!
Day 1: Tokyo
Fish Market - must see for the 8:30 am tour. Includes walking tour and snacks + lunch

Hamarikyo gardens - close to the fish market

Ginza shopping district - close walk, high-end shopping district

Uniqlo

Itoya - multi-level stationery store

Back to hotel

Kobe beef kaiseki - Kobe beef dinner, very good!
Day 2: Tokyo

Shinjuku gyoen national garden - have some cherry blossom trees (bloom in March)

Harajuku district - quirky shopping district, but very expensive, good to browse

Mojo coffee - sweet coffee shop in Harajuku to take a break

Harry hedgehog cage - hedgehog cafe! can pet hedgehogs for 30 mins

Dinner at Fukuzushi - lovely sushi restaurant with set and a la carte menu.

Day 3: Tokyo

Lunch at Shin Udon - tiny place but very good! long lines so plan, but highly recommended

Akihabara district - electronic and anime/manga bookstore district -very cool!

Dinner at Sometaro Okonomiyaki - Japanese pancake that you make at your table, chill place with good food.

Day 4: Tokyo > Nikko

Gorgeous national park with incredible autumn colors and a large waterfall - HIGHLY recommend.

Day 5: Kyoto

Full day tour of Niko castle, Nara park, Todai Ji and much more - highly recommend this. some decent walking but can't miss

Try to get the front seats on the bus for a good view, but not required.

Day 6: Kyoto

Kyoto art and theatre center for Geisha show - not sure if they have this playing, but it was excellent!

Gion (Geisha) district - cute shops and high-end restaurants - some good photo ops here

Dinner at Gyoza Hohei - have to check out this shop! delicious gyoza

Day 7: Kyoto

Aarashiyama bamboo forest - bamboo forest, beautiful

Monkey park

have to hike up on this one - a good 30-45 min hike so be ready for this, it's not super involved.

Day 8: Kyoto

Fushimi Inari - 1000's of orange gates, this is an excellent shrine.

Lots of walking and if you want to go to the top, it's a lot of walking and hiking. We only did 1/2 way since we hiked earlier.

Checked into our Ryokan hotel - very traditional experience with hot tub

Dinner at Musashi Sushi - sushi boat dinner, super delicious food!

Day 9: Kyoto

Nishiki Market - a great shopping area, can spend hours here buying great things - gets very crowded during the day

Ichiran ramen - one of the best ramen we have ever had

Day 10: Back to Tokyo and airport